Media diversity is complicated in Berlin. There are still a few newspapers that appear in print every day, but a closer look reveals that ownership is limited.
Funke Mediengruppe, Springer, Holtzbrinck and Berliner Verlag share the market, with three out of four in the hands of owners from western Germany. It's akin to the Süddeutsche and Abendzeitung being produced in Munich, but the owners are in Leipzig. Not to forget is the taz, which occupies a special position and remains forever independent through its' cooperative, which holds the most diverse ownership structure.
I've been following the BLZ for a couple of years now. Let me try to break down the business development a bit. In 2019, the Berliner Zeitung was bought from DuMont by Holger Friedrich, a software entrepreneur with an eastern German biography. By then, DuMont had underdeveloped BLZ, to say the least. Slim editorial departments were created and the product became interchangeable and irrelevant. Not to mention the page speed when surfing, the outdated editorial system or just the hint of an idea of who a digital subscriber is.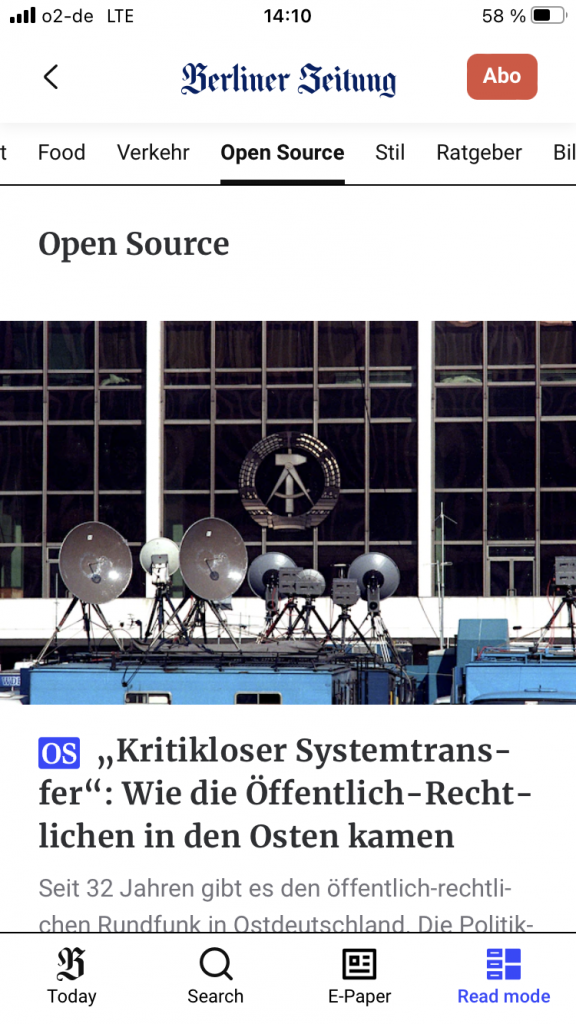 BLZ is available as a web app that really deserves its name. It feels like an iOS or Android app, but it's not. Articles can be clipped, shared, listened to and not really bookmarked yet. BLZ has built its own subscription management tech. The monthly subscription is priced at 9.99 Euros for all articles in the web app; the e-paper costs 32.90 Euros.
With a new editorial system and server backend, the page speed has improved significantly. In addition, the design has been modernized. Editorially, the focus is much more on Berlin and at the same time it's onto the Zeitgeist in fashion and culture. The so-called open source contribution system was introduced, where anyone can submit articles and be remunerated.
I think the printed weekend edition of the Berliner Zeitung is well done. It has been completely redesigned with new sections called "What inspires us" or "What we want," an attempt to give new life to the dusty sections like culture or politics. Overall, it feels more like a magazine, which is due to the original cover design, as well as the topics.
There have also been some changes that have been discontinued again or at least implemented questionably.
The English-language page in the printed weekend edition of the BLZ, as well as online has been discontinued, which is a great pity. No one has really figured out how to balance reach and monetization in English-language editions of German owned media.
Holger Friedrich won the negative award "Closed Oyster" because he had received documents from ex-Bild editor-in-chief Julian Reichelt and decided against publishing them. He then informed Springer about the matter; Springer is in litigation with Reichelt.
And there was a lack of understanding in the media businees towards the Berlin Message, a kind of manifesto, by Silke and Holger Friedrich. This sentence stuck with me though:
""With our acquisition of the Berliner Verlag, we hope to make a contribution of civic engagement, a contribution to extra-parliamentary opposition in a new format, also in the sense of civic self-empowerment."

– Silke und Holger Friedrich
There is also this voice from the taz:
"The Berliner Zeitung makes you feel more like you're standing in a dystopian supermarket where you're constantly scratching your head because the assortment is all mixed up."

– Rene Martens
Publishers have been chasing missed opportunities since the invention of the web browser. BLZ was a sinking ship with DuMont on board. Not to forget BV Deutsche Zeitungsholding, a private equity attempt with BLZ; apart from Excel sheets, nothing innovative was ever developed.
BLZ allows a variety of other opinions, which should be the mission of a diverse, free press. Does a newspaper have to represent only one political current? By embracing the digital instead of taking baby steps and changing nothing, it sets itself apart from other western German owned media houses and is quietly sailíng eastwards, whilst being financially stable.