I first hit the ice as a five year old kid in Highland Park, Illinois, where I learned how to skate and shoot. I made my rounds in the rink and was immediatly hooked to the world's fastest team sport.
Back in Germany as an eight year old, I picked up the nuances of the game's team spirit, as well as the ability to quickly read scoring opportunities. I played in one of Germany's best youth programs for three years, and still is, in Mannheim.
One of the most influential ideas on how to play the game was my experience at a hockey camp, Huron Hockey School, in Canada. It was the read and react concept that stayed, to get a grip on it's speed, grace and grit in the motherland of hockey.
Being a hockey player or fan in Germany is akin to rugby's visibility in the United States. Finding a public place to watch international tournaments, forget about it, let alone find someone to watch with besides your hockey buddies; the media pretty much ignores it.
Despite that, the national league, DEL, fills more seats than any other sport in Germany, only second to soccer, aka football. For some reason that never transferred into any other sphere of media, higher number of active players or boosted local fan fare, yet the times are changing.
Thanks to Germany's record NHL player and head coach, Marco Sturm, who has a major stake in decision making from the bottom up, he's planted the strongest seeds we've ever seen grow. This miracle run to the finals is not a fly by night, Sturm, which means forward by the way, it's the beginning of a new era in German hockey.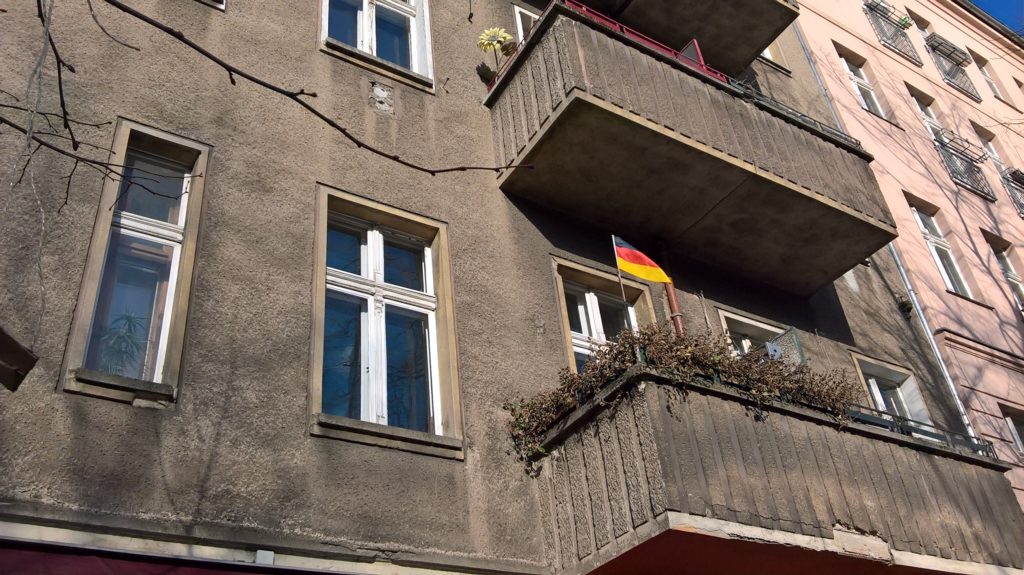 A small black, red and gold flag sits in balcony plants of an unrenovated apartment building in Berlin, on the day of the olympic final between OAR and Germany.
Most importantly, it'll be hockey moms and dads who are the baseline of Powerplay 26 and can carry the legacy of Pyeongchang, they'll bring the kids to the rinks, cheer in the bleechers and influence other parents to follow suit. Hopefully by then, we'll see more cover stories in German media about how to score with style and efficiency, our world class goalies and the strongest team spirit on ice.